Candidates for the Coalition of American Canyoneers Board of Directors
It's election time at the Coalition of American Canyoneers. It's time for you to decide leadership positions for the Board of Directors. We have four positions open with all four incumbents seeking re-election. We encourage new candidates to come forth during this election cycle.
The Coalition of American Canyoneers is an organization for the members by the members and is volunteer based. We meet once per month via phone and have up to two retreats per year with electronic communication in between. We are always in need of individuals that are interested in getting involved to help us promote canyon access, conservation, education, and safety.
The following candidates are running for the board of directors. There are four openings for a two year term. We have five candidates, four being incumbents and one new and welcome name to the list of candidates.
Felicia Bicknell (incumbent)
Sonny Lawrence (incumbent)
Clint Poole
Steve (Ram) Ramras (incumbent)
Rich Rudow (incumbent)
Vote for four of the five candidates by emailing your list of names to cac.boardvote@americancanyoneers.org between August 1 and August 11. The new board of directors will be announced no later than August 16.
The following board members will remain for another year until the 2015 Election: Bill Aho, Rick Demarest, John Diener, Wolfgang Schuster, Alane Urban
Thank you to all of the candidates for their willingness to further the mission of the Coalition of American Canyoneers and we wish each of you the best.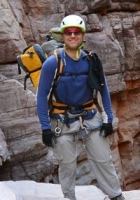 Rich Rudow
I was 25 years old when I discovered Grand Canyon. The other day I woke up middle-aged and realized that I have now been playing in Grand Canyon for nearly half of my life! What started as a river trip in 1989 morphed into years of backpacking in progressively more remote areas, occasionally walking around these foreboding slot canyons.
By 1998, I started venturing into some of the more well-known Grand Canyon slots and discovered a rare and hidden beauty that both fueled my passion and introduced me to "canyoneering". As I explored off established routes, it became increasingly clear Grand Canyon contained hundreds of slots in the difficult-to-reach limestone layers, many of which had not been descended before. In 2007, Todd Martin and I set out to descend as many as we could and have now descended more than 130 Grand Canyon slots. In 2012, I was named one of Outside Magazine's Adventurers of the Year for both leading an audacious canyoneering river trip in February 2011 and descending a particularly difficult slot called Obsession. Dan Ransom's film, Last Of The Great Unknown, profiles the Obsession descent and is featured in the 2012-2013 Telluride Mountain Film World Tour.
My experiences in Grand Canyon, and the inevitable interaction with the NPS land managers, made me realize our right to visit these marvelous places is not assured. Land managers are often wary of canyoneering because it's new and they are unfamiliar with it. Rules and regulations arise from well-meaning assumptions, but these regulations can literally put us out of business. For me, this became a call to action. Land managers respond to organizations with strong memberships; The Coalition of American Canyoneers is our vehicle to convey our right to be in these stunning places.
I'm proud to serve on the Coalition of American Canyoneers board to help keep our playgrounds open as canyoneering enjoys a surge in popularity.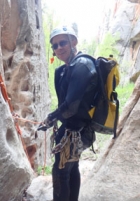 Sonny Lawrence
I started canyoneering in the early 1970's as part of a Search and Rescue (SAR) team. We would insert ourselves at the top of canyons; our job being to search for lost souls who had gone missing. While waiting out a huge storm in the Zion Visitor Center in 1996, I came across a book on canyoneering, which revealed to me that other folks were doing this activity in an organized, recreational approach. Consequently, I formally began to explore canyons. Since then I have traveled to Nepal, New Zealand, Europe, Mexico, Costa Rica, Hawaii, and, of course, the southwestern U.S. to play in the canyons. A handful of these canyons were first descents.
Aside from actually descending canyons, I am very involved in the social canyoneering world and enjoy holding free workshops to teach canyoneering. I was on the board of the former American Canyoneering Association, participating at the local, national, and international level. I am the vice-president of a new organization, the International Amateur Association of Canyoning and attend an international rendezvous every year. My wife, Calius, and I are retired which allows us to share our time between search and rescue, mountaineering, and canyoning activities. Every now and then the laundry gets done.
I have been active in creating or participating in canyon cleanup projects in southern California and the Grand Canyon, as well as, protecting canyon access in the southwestern U.S.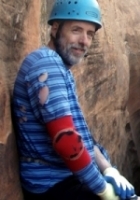 Steve "Ram" Ramras
I want to be involved in this organization because I owe the community a great debt and I would like to pay it back. All the friends I have made in the last several years. All the new techniques developed and amazing places discovered and shared with me. So here I am ready to support access so as to ensure we can enjoy our public lands.
I will work directly toward conservation goals. I want to ensure my children and our children's children will have pristine wilderness to recreate in. This organization will work hard to offer education resources, so we can protect the land through "leave no trace" methods. Safety is also a goal, and will hopefully also be a byproduct of the education. We aim to support search and rescue groups and with some help from us, enable them to be less busy. This will also help protect our access. See how it all goes around in a big circle?
I was born in the South Bronx, New York City. I am the only member of my family who has ever taken a hike or slept on the ground. As an 8-year-old, I stumbled upon mountain climbing books in the NYC Library. I declared to all that would listen, "I am going to do those things when I grow up!" While my "growing up" is debatable, I have certainly had a life of wondrous adventure. I hope my good fortune can be balanced by service back to the community.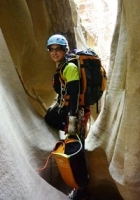 Felicia Bicknell
I began canyoneering in 2005. I have been an active online member of the Yahoo groups, Bogley, and Canyon Collective. I have a large and diverse social network within the canyoneering community and I believe that I'm well received in these communities.
Because of my past employment with the American Arbitration Association as a Case Administrator and Orange County Superior Court as a Courtroom Clerk, I believe that I bring to the table the ability to listen to all sides, gather information, and formulate informed opinions. My career experience has taught me to generally view issues from a neutral point of view, understand the arguments of all sides, and submit this information in an organized fashion to the decision makers.
I am eager to be a participant in the successful growth and endeavors of the Coalition of American Canyoneers.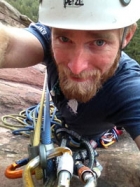 Clint Poole
I've always been an avid outdoorsman. I never really had a choice, because my mom is a Wildlife Biologist and my dad was a Land Surveyor, so I was pretty much "doomed" from the start. One day in my earlier twenties I was driving home from a hunt in the White Mountains of Arizona and I saw beautiful spires sticking out of this canyon. "What a place for some climbs!" I thought to myself as I stopped to look off into the abyss. "I'll get my buddy and the girls and camp here next weekend."
Soon enough, our gals dropped us off at the top of this drainage, set up our car spot, and we set out for a day hike and some climbing… unbeknownst to me, my life was about to change. We came across a ten foot drop. "How many more of these could there be?" we asked ourselves as we found the middle of our dynamic rope and threw all of it into the pool below us. 13 hours later, I had completed my first canyon – a hypothermic, slightly frightening epic of a day.
I wanted more, but I wasn't about to haphazardly jump into another one of these things. I wanted to be safe. I wanted to be a professional.
Fast forward to now; I've enjoyed countless canyons with tons of people from all around the world, and I still hold safety and good stewardship in the highest of regard, of course while having a ball. Participating in SAR conferences and instructing others has become a passion of mine, because giving everyone the tools to interface with the uncertainty of the wilderness and the ability to execute plan B (or F for that matter) seems paramount.
I enjoy serving the newcomers to the sport, as well as the environment itself.