Candidates • 2017 Board of Directors' Election
The Coalition of American Canyoneers has a nine-member Board of Directors. Board members serve two-year terms. For 2017 there six candidates running for five board positions. You may vote for up to 5 of the 6 candidates listed by submitting the form below. Election results will be announced on CAC's Facebook page on August 16, 2017. Thank you.
The Board of Director's 2017 Election is now closed. The results will be announced on August 16, 2017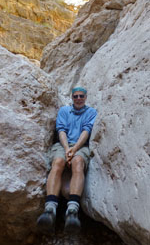 Rick Demarest (Incumbent)
I've been wandering in the Utah and Arizona deserts since 1985. First, on Colorado River trips through the Grand Canyon and then exploring the canyonlands southern Utah. Fascinated by "what's up there?", I eventually found my way to technical canyoneering.
As the owner of a rafting company, I've been involved with land managers and rangers for the NPS, BLM, and USFS. Having seen river regulations imposed in a few areas without any public input, it's clear that as canyoneering continues to grow access regulations will follow. It has happened in Zion and is in progress in the Grand Canyon, Arches and southern California. Most of my work with CAC is on the tech side – the website, editing, and creating graphics for presentations.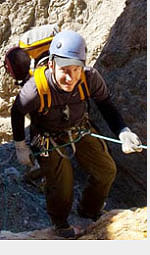 Kevin Krause (Incumbent)
Growing up in Northern Virginia I often retreated to the Shenandoah mountains to camp and hike with family and friends. This fueled an eventual move to Colorado in 2005 where my wife Julie and I would further our connection with the outdoors. We started out skiing and hiking, which lead to hiking the high peaks in Colorado. Seeking more seclusion and adventure we made a trip through Southern Utah in 2010. I remember walking through our first canyon – Surprise Canyon in Capital Reef NP – where we were immediately hooked. In 2011 we took a 1-day course so we could start exploring technical slot canyons. I've been regularly coming out to canyon country since then, enjoying the canyons and the remarkable people in the community.
Canyoneering has enriched our lives so much that I would like to give back to the community. I am most interested in preservation and conservation, as well as education of future and current participants on the ethics exemplified in canyoneering.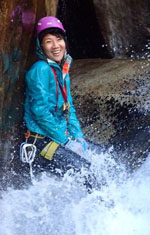 Tiffanie Lin
It was only four years ago when I learned what a carabiner was and the figure 8 knot alluded me to no end. Since then, I have been fortunate to descend many canyons throughout the U.S. and worldwide and spend most of my time in the Pacific Northwest region building the community and exploring canyons. Most importantly, I am grateful to have mentors and strangers (turned to instant friends) who have shared their knowledge and experience and have encouraged me to grow as a better person and canyoneer.
I'd love the opportunity to give back to canyoneering community and be part of a non-profit organization greater than just myself. My strengths and values are in: sharing and collaboration, relationship building, and planning and communication. I believe my values, coupled with my corporate background, align well with the CAC's guiding principles and can benefit the canyoneering community.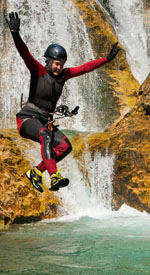 Danielle Monroy
I have been an educator for over 30 years and have sat on many boards, state and county commissions; serving as President of several. I am hoping that I can use my energy and commitment to the sport and the community to work towards implementing the CAC's goals and projects. I like organizing events and would love to do so for this wonderful community. Whether it's putting together a canyon clean-up event or a social gathering or fundraiser, I throw myself 100% into everything I do. I have already been involved in a land access effort and a clean up event for the CAC.
The sport of canyoneering is unique because we love exploring these wild places and need to protect their natural state. A relative newcomer, I discovered it with my family in Zion four years ago and have been gobbling up every canyon and training opportunity that comes my way. I have descended several hundred canyons here in the United States and also in Europe. I enjoy leading and organizing canyon group trips and have been blessed to have been mentored by some amazing athletes in this sport. Sharing my knowledge with others is equally rewarding. I would be honored to continue to serve in an official capacity through the CAC.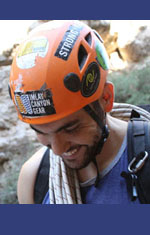 Jake Swanson
I am an avid canyoneer and climber who has a unique passion for land access, conservation and community. I have a bachelors degree in Sustainable Policy and Development. I've descended over 100 canyons from A-C, 1-4 and simple to R and worked for a short time as a guide. I love the small, humbling feeling you get in a canyon that makes you stop and ponder. I love the camaraderie, commitment, and campfire beers shared at the end of a rough day. I love the ethics that have been instilled in most of the canyoneering communities I have frequented.
I would be overjoyed to be part of an organization that desires to advocate on the behalf of these places and people for the conservation, land access and continuing to foster an incredible community.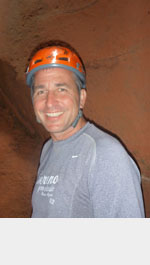 Mike Zampino (Incumbent)
Growing up in Arizona, I fell in love with the outdoors early on and immediately learned the importance of promoting LNT ethics. I took up climbing in 1990. A few years later I discovered slot canyons and was immediately hooked. However, it took me two decades to discover technical canyoneering and that I could combine my rope skills with my love for slot canyons. This opened up a whole new world to explore, which I have done extensively in Arizona, Utah and Colorado.
This past January, I celebrated my 25th anniversary working for General Dynamics in Scottsdale, AZ as an engineering project manager. I have 3 daughters, one of which has also taken up the sport under my watchful eye. With the tremendous growth canyoneering has seen in the last five years, I realize the importance of the CAC and its ability to help protect this fragile environment and at the same time make sure we retain access to these unique and special places.