Board of Directors
The Coalition of American Canyoneers has a nine-member board. Board members serve two-year terms, and elections are held for 4 or 5 Board positions each July. CAC held its first formal board election in July of 2012.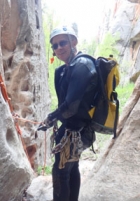 Sonny Lawrence
I started canyoneering when inserted at the top of a canyon by helicopter in the early 1970's to search for a lost hiker. As a retired psychiatrist, I am able to experience canyons around the globe. I continue to participate in volunteer mountain search and rescue as a member of the Cave and Technical Rescue Team, adding to the technical aspect of the sport via backyard gear and technique testing.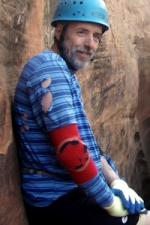 Steve (Ram) Ramras
As a devoted parent of two skilled canyoneers, I am committed to conserving and protecting access to canyon country for future generations. My particular interest is in mainstreaming new "leave-no-trace" tools and techniques. I am very grateful for a life rich with friends and adventures and sees my efforts with CAC as a way to repay this good fortune via community service.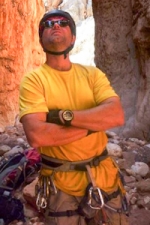 Rich Rudow
I live in Arizona and found my first technical canyon in 1998 while pushing a Grand Canyon route further than I probably should have. After 500 days below the rim finding slot canyons, an inevitable run in with the NPS convinced me that the Canyoneering community must be more proactive and involved if we're to keep these places open.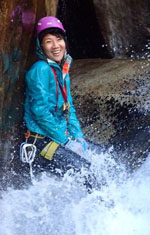 Tiffanie Lin
It was only four years ago when I learned what a carabiner was and the figure 8 knot alluded me to no end. Since then, I have been fortunate to descend many canyons throughout the U.S. and worldwide and spend most of my time in the Pacific Northwest region building the community and exploring canyons. Most importantly, I am grateful to have mentors and strangers (turned to instant friends) who have shared their knowledge and experience and have encouraged me to grow as a better person and canyoneer.
I love the opportunity to give back to canyoneering community and be part of a non-profit organization greater than just myself. My strengths and values are in: sharing and collaboration, relationship building, and planning and communication. I believe my values, coupled with my corporate background, align well with the CAC's guiding principles and can benefit the canyoneering community.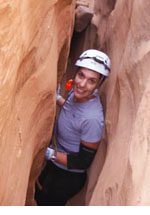 Alane Urban
I began in the sport of canyoneering in 2009. While I always loved adventure, keeping active and enjoying outdoor sports such as biking (mountain and road biked around the US and the world), running and hiking, I never had much technical experience. While the idea always intrigued me and I read all the great books and articles on mountaineering, I never tried anything like it until meeting this great group of people who called themselves canyoneers. After the first trip, I was hooked. Hooked on the community of people, the beauty of the environment, the teamwork and problem solving that goes into the sport and the self-discovery that ensues as part of this activity.
I was in the corporate environment for almost 30 years. During that time, I worked for Fortune 100 companies and eventually helped build a successful company from the ground up. I have recently decided to leave that world for one that may hold more passion for me. I live in Denver, Colorado and enjoy the mountains during the times I do not have the time to drive to Utah or other areas for canyoneering.
I want to help keep our sport of Canyoneering open to us forever. The mission of the CAC of Conservation, Access, Education and Safety is necessary for this goal.

Documents
The Coalition of American Canyoneers is organized as
a 501(c)(3) nonprofit corporation in the State of Arizona.
Organizational Documents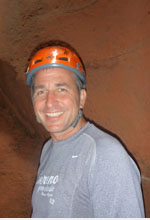 Mike Zampino
Growing up in Arizona, I fell in love with the outdoors early on and immediately learned the importance of promoting LNT ethics. I took up climbing in 1990. A few years later I discovered slot canyons and was immediately hooked. However, it took me two decades to discover technical canyoneering and that I could combine my rope skills with my love for slot canyons. This opened up a whole new world to explore, which I have done extensively in Arizona, Utah and Colorado.
This past January, I celebrated my 25th anniversary working for General Dynamics in Scottsdale, AZ as an engineering project manager. I have 3 daughters, one of which has also taken up the sport under my watchful eye. With the tremendous growth canyoneering has seen in the last five years, I realize the importance of the CAC and its ability to help protect this fragile environment and at the same time make sure we retain access to these unique and special places.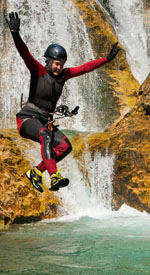 Danielle Monroy
I have been an educator for over 30 years and have sat on many boards, state and county commissions; serving as President of several. I am hoping that I can use my energy and commitment to the sport and the community to work towards implementing the CAC's goals and projects. I like organizing events and would love to do so for this wonderful community. Whether it's putting together a canyon clean-up event or a social gathering or fundraiser, I throw myself 100% into everything I do.
The sport of canyoneering is unique because we love exploring these wild places and need to protect their natural state. A relative newcomer, I discovered it with my family in Zion four years ago and have been gobbling up every canyon and training opportunity that comes my way. I have descended several hundred canyons in the United States and Europe. I enjoy leading and organizing canyon group trips and have been blessed to have been mentored by some amazing athletes in this sport. Sharing my knowledge with others is equally rewarding and I'm honored to continue to serve in an official capacity through the CAC.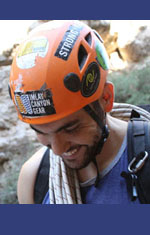 Jake Swanson
I am an avid canyoneer and climber who has a unique passion for land access, conservation and community. I have a bachelors degree in Sustainable Policy and Development. I've descended over 100 canyons from A-C, 1-4 and simple to R and worked for a short time as a guide. I love the small, humbling feeling you get in a canyon that makes you stop and ponder. I love the camaraderie, commitment, and campfire beers shared at the end of a rough day. I love the ethics that have been instilled in most of the canyoneering communities I have frequented.
I'm pleased to be part of an organization that desires to advocate on the behalf of these places and people for the conservation, land access and continuing to foster an incredible community.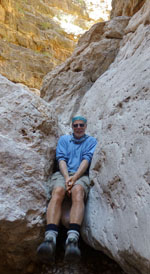 Rick Demarest
I've been wandering in the Utah and Arizona deserts since 1985. First, on Colorado River trips through the Grand Canyon and then exploring the canyonlands southern Utah. Fascinated by "what's up there?", I eventually found my way to technical canyoneering.
As the owner of a rafting company, I've been involved with land managers and rangers for the NPS, BLM, and USFS. Having seen river regulations imposed in a few areas without any public input, it's clear that as canyoneering continues to grow access regulations will follow. It has happened in Zion and is in progress in the Grand Canyon, Arches and southern California. Most of my work with CAC is on the tech side – the website, editing, and creating graphics for presentations.