Introduction:
John Wesley Powell coined the term "canyoneer" on his explorations of the Colorado Plateau in 1869. Today, many Grand Canyon hikers, boaters, and technical Canyoneers use the term "canyoneer" to refer to their activities. Unlike most other canyoneering locations, technical canyoneering in Grand Canyon often requires an expedition mentality. The scale of the place is vast. Access to slot canyons is often a multiday affair requiring backpacking, technical descents of slot canyons, short pack raft floats on the Colorado River, and extremely difficult hiking exits to the rim. Because of the multi-day nature of these trips, backpacks are far heavier than usual to carry sufficient food and gear for technical canyoneering routes. However, if you're fit and mentally up to the task, technical canyoneering in Grand Canyon delivers some of the finest Wilderness, solitude, an stunningly beautiful slot canyons in the World.
The National Park Service is currently updating the Backcountry Management Plan. The current plan is 24 years-old and technical canyoneering activities were not considered when it was formulated. It's absolutely imperative that the canyoneering community get involved or our access to Grand Canyon slots could be completely denied. The public scoping process is complete. In 2013, we expect the public to be able to comment on the draft plan. Your involvement is crucial. Updates will be posted here frequently.
Access Alerts!:
Deer Creek: The lower Deer Creek slot near the river in the Tapeats sandstone layer has been closed by the NPS in deference to tribal requests under the National Historic Property Act (NHPA). Currently, no visitation inside the slot is allowed. Visitation to the patio area at the head of the slot, trail access from the river, and trail access from the rim remain open. American Canyoneers is actively working with outside experts to reverse what we believe is an overreach of the NHPA by the NPS and the tribes.
Garden Creek is a beautiful slot canyon that is accessible as a day hike from the rim. Recently people have been getting sloppy and American Canyoneers representatives have twice conducted clean-up trips to maintain our right to visit this place. Please do your part and follow all rules to keep Garden Creek open.

Not This!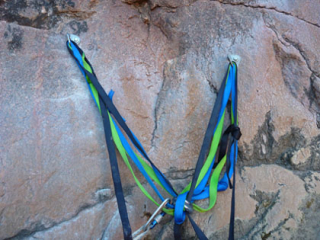 This!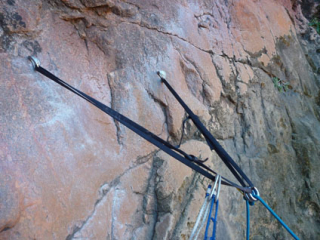 Photos: Rich Rudow • Garden Creek midwall anchor station on the 400' waterfall rappel
Raft Assisted Backcountry Travel:
Packrafts are allowed on backcountry routes where no more than 5 miles of river travel takes place on a backcountry permit. The NPS recently changed the pack raft rules, under the Superintendent's compendium, to disallow the use of pack rafts without a permit. If you are using a pack raft as part of a day hike you must acquire a backcountry permit and check the pack raft box – even if you aren't spending the night in the backcountry.
Permit Requirements:
Grand Canyon National Park does not require a permit for day hiking UNLESS you are also using a packraft as part of your route. Camping overnight in the backcountry requires a permit. The permit form and additional information can be found here: GCNP Backcountry Permit
Rules:
Technical Canyoneering is Grand Canyon requires adherence to specific Grand Canyon National Park rules.
Those rules are published here: GCNP Canyoneering Technical Bulletin
Emergency Information:
24-hour Emergency Response: 928-638-7911 or 928-638-2477
Grand Canyon Medical Services Locations: Grand Canyon Medical Services
Closest Hospitals are located in Flagstaff, Kanab, and St. George.
Flagstaff: Flagstaff Medical Center
Kanab: Kane County Hospital
St. George: Dixie Regional Medical Center
Park Facts:
Grand Canyon National Park contains 1.2 million acres of land with the lowest elevation along the river at 1,200' and the highest elevations on the north Rim over 8,000'. The Colorado river flows for 277 miles through Grand Canyon starting at Lee's Ferry and ending at Grand Wash cliffs. 141 slot canyons have been descended, including 117 canyons published in Todd Martin's book, Grand Canyoneering. Many slot canyons remain undiscovered in this vast landscape.
More Park statistics can be found here: GCNP Statistics