Introduction:
The rugged San Gabriel Mountains filled with their prickly yuccas, poison oak, ticks, and rattlers, have been explored for hundreds of years. First by Native Americans, then miners in search of California's gold, and finally by the denizens of Southern California. The accessibility of this range allows weekend warriors to enjoy a quick route while training for the longer and more technical descents found in Grand Canyon, Zion, and relatively nearby Death Valley.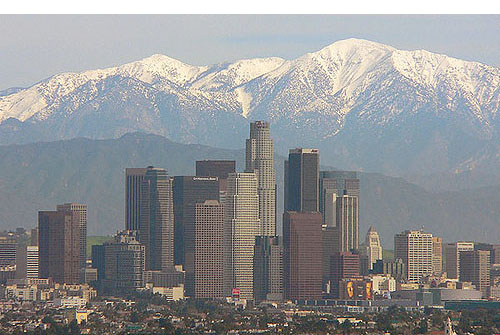 Canyoneers here will find relatively unspoiled wilderness in close proximity to the cities. Nevertheless you should expect to find random pieces of trash, car parts, graffiti, and even the occasional dumped body (over 10 per year!).
Depending on the time of year and amount of rain you can expect to see canyon routes change from bone dry to heavy flowing rivers. Care should be taken to avoid San Gabriel canyoneering routes during, and the 48 hours after, rain both due to unpredictable water levels and rock fall.
Because of the close proximity to such a mixed population of adventurists you can expect to find a variety of anchors in the San Gabriel routes, including some that are potentially unsafe. Be prepared to build your own anchors and/or assist groups through a route. The San Gabriel's are a rapidly eroding mountain range so helmets are a must have for the canyon descent due to rock fall.
A descent in the San Gabriel Mountains typically takes from 4-12 hours and presents one of the most unique outdoor adventures that can be enjoyed in Los Angeles. Some of the front country routes even present incredible views of the city below (but only on days without smog!). Enjoy the rappels, cool water, and mountains while traffic builds below.
Access Alerts!:
Due to the close proximity to a large metropolitan area canyoneers must be vigilant about protecting valuables in parked vehicles. Numerous break-ins have occurred at various trailheads.
All established canyoneering routes in the San Gabriel Mountains are currently open.
Certain portions of the San Gabriel Mountains are closed for years at a time due to post-fire rehab and protection of wildlife habitats. Please consult this page or the website for the Angeles National Forest or the San Bernardino National Forest for current closures.
Permit Requirements: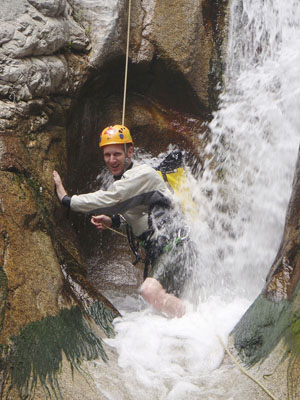 Currently nearly all the routes in the San Gabriel Mountains enjoy open access although routes that sit within the Angeles or San Bernardino National Forest require an Adventure Pass for your vehicle.
If you are unclear on areas that sit within the boundaries you can find maps and pass information at USDA-Forest Service | Angeles National Forest
Rules:
Due to the close proximity to flowing water in the Southern California canyoneers are encouraged (although not required) to pack it in / pack it out.
Emergency Information:
Many of the front country routes in the San Gabriel Mountains enjoy cellular coverage so your first call should be 911.
There are several mountain rescue agencies located in Southern California. You can expect any rescues to come from a combination of resources including these rescue teams, the Sheriff's Department, and local fire departments.
There are over 100 licensed hospitals in Southern California so you are guaranteed to always be near one.
San Gabriel Mountain Facts:
The San Gabriel Mountains are 970 square miles and run 68.4 miles long and 22.5 miles wide. The highest elevation point is Mount San Antonio with an elevation of 10,068 feet. The San Andreas Fault forms the northern boundary of the mountains. The majority of the mountain range is contained by the Angeles and San Bernardino National Forests with a few areas controlled by Los Angeles County Parks and Recreation Department.