Introduction
The Navajo Nation covers over 17 million acres encompassing all of the NE quarter of Arizona, and parts of Utah and New Mexico. This highly photographed landscape features a brilliant blue sky over numerous deeply carved canyons, pristine alpine wilderness meadows and flatland desert. The Navajo Nation is comprised of essentially private lands, therefore all non-Navajo visitors must abide by and comply with the laws, regulations and policies promulgated by the Navajo Nation government, including those governing Navajo parks, monuments and recreation areas.
History
The Navajo Parks and Recreation Department is one of the oldest programs in the Navajo Nation government. It was established in 1964 and is charged with the responsibility to the Navajo Nation's primary caretaker of special lands set aside for preservation. These wise Navajo leaders recognized the need to preserve and conserve these lands for future generations for their enjoyment and spiritual well being, and, in accordance with Navajo custom, to welcome visitors from all over the world.
The Mission of the Navajo Parks and Recreation Department is to protect, preserve and manage tribal parks, monuments and recreation areas for the perpetual enjoyment and benefit of the Navajo Nation – the spectacular landscapes, buttes, canyons, clean air, diversity of plants and wildlife, and areas of beauty and solitude.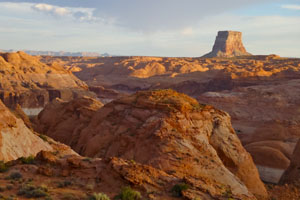 May it be beautiful before me.
May it be beautiful behind me.
May it be beautiful above me.
May it be beautiful below me.
May I walk in beauty.
From: Navajo Nation Parks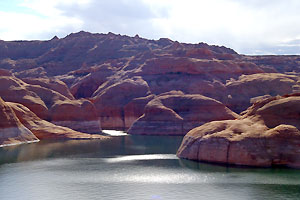 Access Alerts
Closed Areas:
 Recently, the Kaibeto Chapter community has prohibited hiking and camping in the entire area of Upper Kaibeto, Navajo Canyon, Choal Canyon, (Kaibeto Creek), Peach Wash, and Butterfly Canyon. Also, the area around the Inscription House community and Tsegi Canyon, (Dowozhiebeto and Long Canyons) are closed. These Closures are due to; trespassing across residential areas, no permits, disturbing livestock, littering, and possible disturbance of fragile archaeological ruins.

Rules, Regulations and Restrictions
All areas on the Navajo Nation are closed to non-Navajos unless you have a valid camping, hiking or backcountry permit issued by the Navajo Parks and Recreation Department or other duly delegated tribal authority. Failure to have a permit is considered Trespassing on a Federal Indian Reservation.
Please visit Navajo Nation Parks and respect all of the Park rules and regulations, many of which are specific to this land.
Permits and Fees
• Backcountry and/or Camping: $12/person, per day/night. (Fees subject to change)
• A special permit is required for commercial filming and photography on all areas of Navajo land. A permit may be obtained by contacting the Navajo Office of Broadcast Services. For more info: Navajo Nation Parks – Film Permits
1. You will need to request for a permit prior to your visit please allow 3-4 weeks before your trip, or visit any of the following Navajo Parks and Recreation offices. Permits can be obtained from 8 a.m. to 5 p.m. (Mon.-Fri.) at each Park Office listed below. Please call for summer hours.
2. Upon receiving the permit, complete as needed and return to Navajo Parks and Recreation. Call 928-871-6647 for any questions or contact any of the parks listed below:
For Permits, contact the appropriate office listed at: Navajo Nation Parks – Permits
Emergency Information
Due to the isolation of the canyons and trails, rescue operations are not readily available.
Usually, if you can see the top of Navajo Mountain, you will have cell service.
Local emergency numbers:
• Call: 911
• Coconino County Sheriff's Office Emergency: 1-800-338-7888
• Arizona State Patrol: 1-800-525-5555
• Wahweap-Glen Canyon Recreation Area Emergencies: (928) 608-6200
• Navajo Nation Ranger Headquarters: (928) 871-2111
Navajo Nation Law Enforcement Offices:
• Window Rock District: (928) 871-7544
• Kayenta District: (928) 697-5600
• Tuba City District: (928) 283-3111
• Chinle District: (928) 674-2111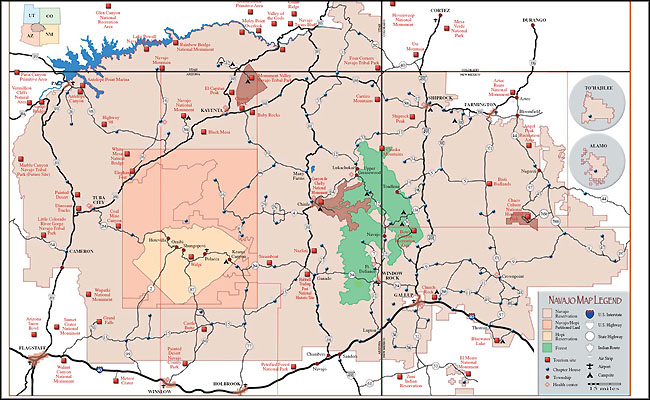 Contacts: For a complete list of Navajo Nation's Programs and Administrative contacts visit: Navajo Nation Parks