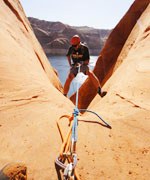 On March 22-23, 2013, the Board of Directors held the first American Canyoneers board retreat graciously hosted by Mike and Gary at the "Saddle" in Boulder, UT. Every board member was in attendance. Over a two- day period, we meet for a total of 9 hours. Meeting notes are posted on American Canyoneers web site for those of you interested in the general discussion.
Highlights: (click on Read More below)
• The newsletter will be posted the second week of every month. Individuals interested in particular focus areas (access, conservation, education and safety) can make contributions to the newsletter. Members are encouraged to submit any relevant information they would like to be included. Submissions are due by the end of the first week of each month.
• A few liaison positions are still open: Washington, Oregon and Red Rocks. If anyone is interested, please send me an email.
• Rich Rudow has been involved in active discussions with the Grand Canyon Private Boaters Association to reach a consensus on an effective framework for managing packrafting on backcountry routes. A letter of understanding was reached and sent to the Grand Canyon park superintendent. The letter will be posted on the American Canyoneers web site shortly.
• After we complete 501c3 status and incorporate our various programs, we are looking at creating a paid Executive Director position. More information will be provided on this issue as it develops.
• We are in the middle of the spring canyoneering season. If any access issues develop with a landowner, please forward the information to the area liaison or a board member so they can be addressed. It is to everyone's benefit that the rules are known and followed in order to eliminate future problems.
• Finally, we have our first conservation effort at Yankee Doodle on April 20th. Twenty volunteers will be needed to complete the cooperative task with the BLM. It is important that we conserve the canyons for present and future use. This will be the first in a series of conservation events. Details are posted here: Yankee Doodle Cleanup
_______________________________________________
New Members
I would like to welcome the following members that have recently joined American Canyoneers:
Stephen Bradshaw
Steve Burkhart
Jarel Carling
Michael Chestnut
David Cicotello
David Coffman
T.J. Cottam
Michael Davis
Gary Deadmon
Logan DeGrand
Timothy Dowling
Kyle Engel
Get in the Wild Adventures
Christina Gorzalski
Christian Green
Rick Green
Justin Greenstone
Scott Greenstone
Christopher Hagedorn
Diana Hall
Jared Hillhouse
Phil Hurst
David Larkin
Tim Larson
Kami Lennox
Marcho Leonini
Douglas Lochmiller
Anthony Long
Matthew McCallum
Heather McIlvenna
North Wash Outfiltters
Alim Shariff
Paul Stovall
Peter Woodruff
Jonathan Zambella
————————————————————
WOLF