Punchbowl Canyon • Arizona
The Coalition of American Canyoneers (CAC) has been negotiating access to Punchbowl Canyon with the Salt River Project (SRP).
Punchbowl Canyon is part of the Tonto National Forest south of Horse Mesa and was first descended by Tim and Niki Heying and Bill Westerhoff. Nearby is a significant dam that delivers hydropower and water to Phoenix. The dam has new security requirements since 9/11. In the past, canyoneers have been accessing the canyon without permission and there was an incident in 2011 that left a negative impression. Fortunately, the CAC was able to get past this and worked with SRP to allow canyoneering access under the following rules which will be posted by SRP around the middle/end of November, 2015: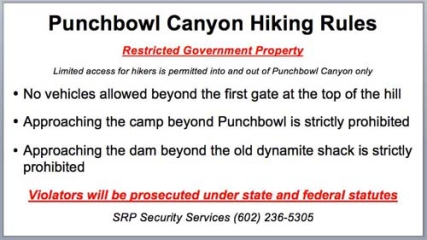 A bit more information to clarify what SRP wants to happen in order to be in compliance.
• No vehicles allowed. Canyoneers must park at the top of the Mesa before the No Trespassing sign and walk down the road. Once past the No Trespassing sign, you may be questioned by SRP employees or law enforcement and need to inform them that you are accessing Punchbowl Canyon.
• Daytime access from Canyon Lake by boat will be allowed as long as boating access is directly to the old dynamite shack access ravine.
• Upon exiting the canyon, canyoneers must walk the road back toward Fish Creek or down to Canyon Lake to exit. Under no circumstances are canyoneers to walk toward the employee housing complex or the dam. It is probably a good idea to leave the Punchbowl area once the ropes are pulled and gear down next to the Fish Creek bridge.
• The key rule is that people access the mesa top from the dynamite shack drainage and not be tempted to get closer to the housing complex before climbing.
There will not be a formal permit system.
Canyoneers can come and go as they like. However, if canyoneers are not in compliance with the above outlined rules, the SRP will reconsider their options including closure of the canyon. Furthermore, SRP will cooperate if a canyon rescue is required, but if there are too many rescues that impact dam operations they will reconsider options including closing access to the canyon.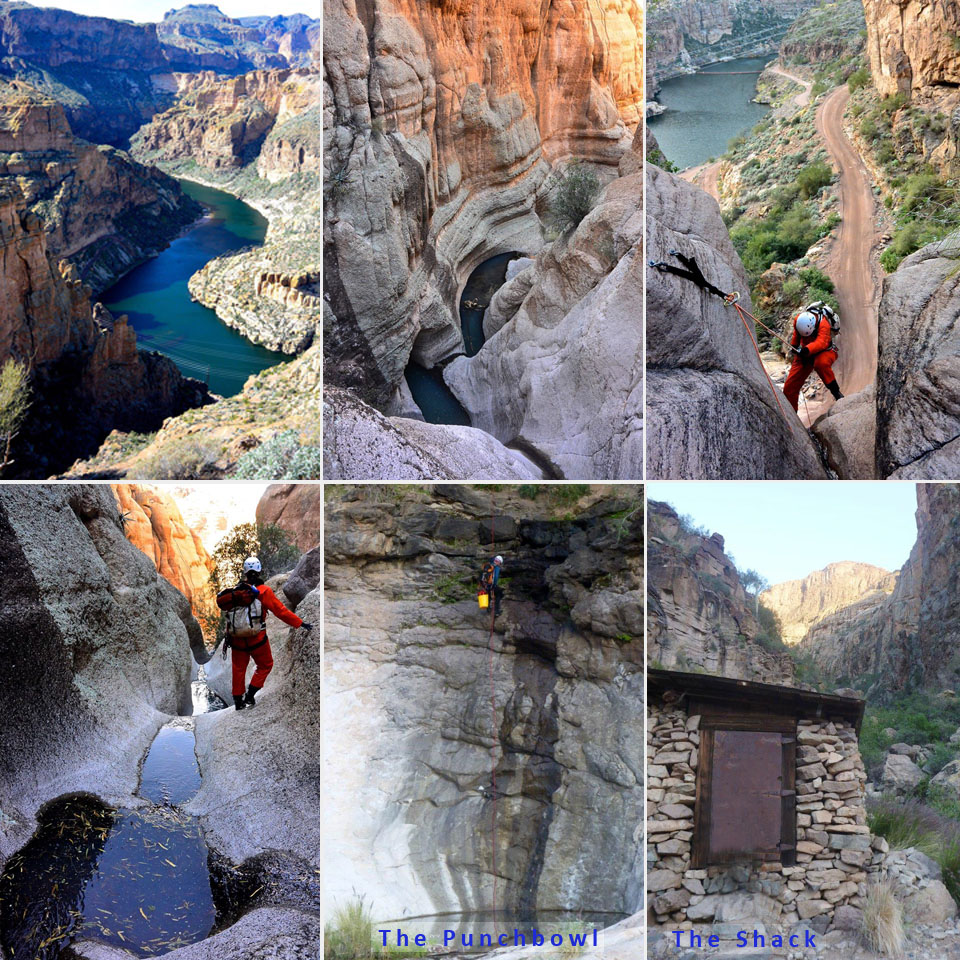 Photos: Rich Rudow & Mike Zampino