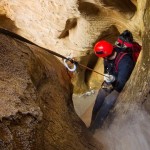 The board has been working on the organizational structure of American Canyoneers. ACES has been sub-divided: Access (Rich), Conservation (Ram), Education (Sonny), Safety (Troy and Malia), and then Membership and Communication (Jenny & Mike). Here are a few highlights:
Access is being divided into regions, then connected with people who have expertise to represent local areas. It's a large project and local knowledge is king. If you are interested in representing areas while we are in the development phase, we would love to hear from you. We have a conference call scheduled this week with Outdoor Alliance, will keep you posted.
Jenny has been working hard to make the website more user friendly. Technical and creative expertise will be coming from Nick Wilkes and Brian Farr. Look for changes shortly. There is an updated membership list on the AC web site – Current Membership List. If there are any corrections please email Jenny West.
Troy is working on a logo with a local graphic designer. Merchandise is in the works.
Building a strong organizational structure will be key to the success of American Canyoneers. This will be the focus for the coming weeks. As canyoneering becomes more popular a group voice will become even more evident. Just look at what is going on in Deer Creek and the Grand Canyon as an example. How about Death Valley and Arches? We need a "voice" to represent canyoneers, to protect the canyons for the present and the future. Join us and be heard.
New Members for July and August:
Shaun Vernon
Jason Robertson
John Metzger
Luca Chiarabini
Michael Henkin
Brian Farr
Mike Cabourn
John Shipley
James Akers
Todd's Hiking Guide
Richard Retz
James May
Alane Urban
Chad Alber
Rick Fetters
Brandt Ball
Ronald Hudson
Jason Willis
Ira Lewis
Jim Bodoh
Matthew Lowe
Deanpaul Russell
Kathy Sharp
Mike Putiak
Patricia Diaz
Sharon Schierling
Troy Ayres
Jacen Wray
WOLF