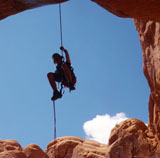 Call to Action for All
American Canyoneer Members:


Arches National Park:
There are important changes to canyoneering management in Arches National Park that could affect your access.
The National Park Service (NPS) is accepting comments to their Climbing and Canyoneering Management Plan for Arches through July 9, 2013. American Canyoneers has carefully examined the NPS documents, reviewed the impacts of the plan and has formulated the following draft response: American Canyoneers Position Statement. We ask that you consider the position outlined and provide comments to American Canyoneers for incorporation into the final position statement by Sunday, June 30th. American Canyoneers will provide comments to the NPS on behalf of our members. It is also extremely important that American Canyoneers' members, and the broader canyoneering community, comment individually.
Numbers matter!
Please support the American Canyoneers' position and/or voice your own comments with the NPS here: NPS Document: Arches Climbing and Canyoneering Management Plan (more…)