American Canyoneers Board of Directors' Election Results
CONGRATULATIONS and welcome to the American Canyoneers' Board of Directors.
Wolfgang Schuster
John Diener
Rick Demarest
Alane Urban
Bill Aho
Felicia Bicknell
The following board members will remain on the board for another year until the 2014 Election: Sonny Lawrence, Rich Rudow, and Steve (Ram) Ramras.  
We would like to thank the outgoing board members for their contribution to American Canyoneers: Jenny West, Mike Putiak and Troy Ayres.
We take our hats off to all of the candidates for their willingness to further the mission of American Canyoneers and wish each of you the best in your pursuits and trails.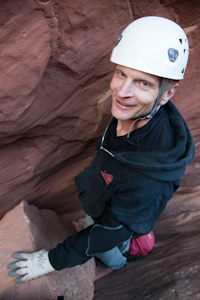 Wolfgang Schuster
Eight years ago, I entered the canyoneering arena by taking my family to a class at Zion Adventure Company… I thought it might be fun. Turned out it was a LOT of fun, and I found myself spending more and more free time in the canyons. I soon found opportunities to explore canyons in Zion, Escalante, Mexico, and Costa Rica, loving every minute of it.
One day in October 2011, I became frustrated with the state of the social/political canyoneering world and decided to do something about it. I visited the Yahoo Canyons Forum and said I would start a Canyoneering organization for the benefit of all. A bunch of folks jumped on the wagon, and we elected an initial board of directors to get things moving. Together, we developed the ACES concept and the articles of incorporation. I now am proud to be part of the Board of Directors helping to establish this fine organization.
I love getting out there and enjoying the environment in the company of good friends. I would like to see future generations able to enjoy the same pristine environment. It is my hope to help this happen as part of American Canyoneers.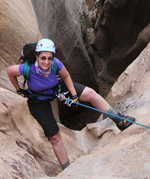 Felicia Bicknell
I began canyoneering in 2005. I have been an active online member of the Yahoo groups, Bogley, and CanyonCollective. I have a large and diverse social network within the canyoneering community and I believe that I'm well received in these communities.
Because of my past employment with the American Arbitration Association as a Case Administrator and Orange County Superior Court as a Courtroom Clerk, I believe that I bring to the table the ability to listen to all sides, gather information, and formulate informed opinions. My career experience has taught me to generally view issues from a neutral point of view, understand the arguments of all sides, and submit this information in an organized fashion to the decision makers.
I am eager to be a participant in the successful growth and endeavors of American Canyoneers.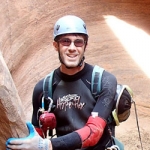 John Diener
Back in the early nineties, when peak-bagging in the Santa Catalinas of Arizona, friends and I began carrying ropes for retreat down rugged drainages. Little did we know this was something called "canyoneering". A move to Salt Lake City in 1995 led to my first real sampling of Colorado Plateau slot canyons, and visiting them and others across the west has been a growing interest ever since.
When Wolf and others started American Canyoneers, it was an appealing idea: a non-partisan organization that would listen to and speak for the growing population of canyoneers. Although I am interested in all things canyoneering, I am particularly passionate about two of the AC's charter issues – access and conservation.
On the access side, I hope we can preserve the open policies currently enjoyed in many of our favorite locations such as Escalante and many other places, while working to ensure lands managed with more restrictive regulations do so with common sense and science-based decision making; the goal being to provide the best experience/access possible for canyoneers in conjunction with land managers meeting their requirements.
With regards to conservation, we all know canyoneer numbers are going to increase – the sport is just plain fun! I think we need to proactively work with land managers to find ways to minimize our impacts as the sport gains popularity. The recent work in partnership with the USFS on the Yankee Doodle access trail, as well as the quick response to problems in Grand Canyon has been great stuff, and I'd like to help American Canyoneers build on these successes.
It would be my honor to work with American Canyoneers for the benefit of all canyon travelers on these and other issues affecting our sport.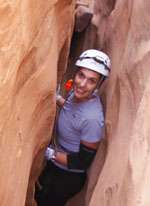 Alane Urban
I began canyoneering only four years ago. At first, it was about learning new something new and the challenge of seeing what I could push myself to do. In a short while, I fell in love with the long days, the physical nature, the teamwork, problem solving and the continued learning of moving beyond someone following in a canyon to one who is contributing. From the get-go, I knew I had found a passion. And it wasn't just about the technical aspect of canyoneering, it was the people, the friendships and the camaraderie as well as the beauty of the canyons.
I have been fortunate to learn from some of the best talent in the canyons, those who believe in keeping the canyons pristine, ghosting techniques and making sure everyone puts safety first. As I see the sport growing we have all the more need for conversations around conservation and safety. American Canyoneers is being built as a strong ambassador for this.
I have been a business leader for the past 25 years, currently residing on the Executive committee of a Colorado based company. I've been recognized for problem solving and negotiation, skills that can come in handy while working on any board. I've decided to run for board of the American Canyoneers because of my passion for canyoneering, the people in the sport as well the preservation of the beauty of the lands.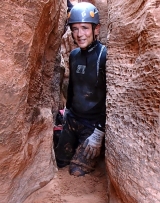 Bill Aho
My son and I descended our first canyon in 2005 and immediately decided it was the coolest thing ever. The next weekend we were out again, this time on our own, with borrowed harnesses and ropes. Since then, I am continually amazed at how much I love being in canyons; the beauty and diversity, the challenge and physicality and the ever-changing conditions and experience. But I have equally enjoyed being a part of the canyoneering community; by my observation a fun, friendly, caring, intelligent and principled bunch.
My background is in business (general management, marketing and innovation) and I've worked for Fortune 500 companies and tech start-ups and as a management consultant. I've had some experience with government committees, advisory boards and lobbying. Lately I've been engaged volunteering at a Salt Lake youth correctional facility, and we are working with the state government to develop a post-release mentoring program.
I'd love to see this nascent American Canyoneers organization grow substantially and become a powerful force to impact policy, standards, ethics, conservation, regulation, etc. I'd like to see every canyoneer become a member and have a myriad of options for getting involved and engaging in the community. I appreciate those that have gotten the ball rolling, which is the most difficult part. If I can help, I am happy to — either on the board or as a committee member or volunteer.
Rick Demarest
I own Turtle River Rafting Company in Mount Shasta, CA. I've been wandering in the Utah and Arizona deserts since 1985. First, on Colorado River trips through the Grand Canyon and then, by exploring on foot. Fascinated by "what's up there?", I eventually found my way to technical canyoneering.
In 2011 I was fortunate enough to help organize and participate in the first rafting/canyoneering trip through the Grand Canyon. It was on this trip that I met and became friends with many of the people now involved with American Canyoneers. In 2012 I took over the work of website manager for American Canyoneers and, with a background in design and communication, helped to develop the email newsletter and Facebook page.
Through my rafting company, I've been involved with managers and rangers for the NPS, BLM, and USFS. Having seen river regulations imposed in a few areas without any public input, it's clear that, as canyoneering continues to grow, access regulations will follow. It has happened in Zion and is in progress in the Grand Canyon and Arches. American Canyoneers is in the perfect position to be a voice for the canyoneering community in working with land managers to provide valuable information and, hopefully, have a position at the table as the new rules are developed. It's my belief that we can have this role if American Canyoneers can grow to represent the canyoneering community. By taking a position of "we want to work with you" in regard to land managers and the decision making process we gain a voice in the decisions that affect all of us.
Having been the noisy voice in the background for over a year, I'd like to take more of a role in assisting American Canyoneers in the areas of communication and policy development by being on the Board of Directors.