American Canyoneers • Search and Rescue Team Fund Raiser
Coconino County, Arizona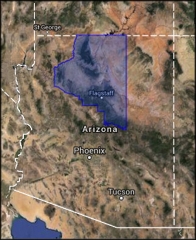 Coconino County, with an area of 18,661 square miles, occupies a huge swath of Northern Arizona and encompasses many areas that attract outdoor enthusiasts from around the World. Popular areas include parts of Grand Canyon, the West Clear Creek Wilderness, West Fork of Oak Creek, the southern part of Lake Powell, Tonto National Forest, Coconino National Forest, and Kaibab National Forest. Hidden within these popular areas are hundreds of slot canyons including some of the finest in the World with names like Illusions, Antelope, MARD, West, Panameta, and Obsession. Behind these names are significant dangers that are only clear after you've made the irreversible decision to do that first downclimb or rappel.
Technical canyoneering has been enjoying substantial growth in the last 10 years resulting in a dramatic increase in technical rescues. These rescues require enormous resources to save lives. Most of the Search And Rescue (SAR) teams are staffed by volunteers who risk their lives to save us. The Coconino County Sherriff's SAR team is one example. They depend on ever scarcer Federal and State funds for equipment and training.
Recognizing our dependence on these precious SAR services, American Canyoneers has launched a fund raising campaign to help the team help us. These funds will be used for the purchase of critical equipment and training for team members.
How can you help? Easy! Come watch a few great films about canyoneering! Along the way you'll see a presentation by the SAR team about the rescue in Insomnia Canyon, certainly one of the most difficult slot canyon rescues ever. You'll be stunned at the effort the team had to put into saving one life. Join us in Flagstaff on September 17th at the Orpheum Theater or in Tempe on September 18th at the Pollack Tempe Cinemas.
Have fun, celebrate our favorite pastime, learn how you can avoid being the next victim, and support our SAR team
Program Details
Rescue in Insomnia Canyon
Discovered in 2005 by canyoneering pioneer Joe DeSalme, Insomnia Canyon quickly halted Joe's initial probe with foreboding and difficult challenges. Realizing he needed more gear and a bigger team, he returned two more times with his wife Sara and Todd Martin to fix ropes and probe further. Finally, on the fourth attempt, with a 400' rope in tow for a huge drop, they succeed in doing the first descent. Sleepless with worry over the whether the rope would reach, Joe named the canyon "Insomnia."
With particularly dangerous technical obstacles, Insomnia was kept secret and was only done occasionally by a few very experienced Canyoneers. Eventually it leaked onto the web and traffic in the slot increased. On August 13, 2011 first responders were called to respond to an accident in the West Fork of Oak Creek. Unaware that slot canyons existed in the vicinity, a harrowing race against time began to find and save a canyoneer who fell during the 330' rappel from Insomnia Canyon.