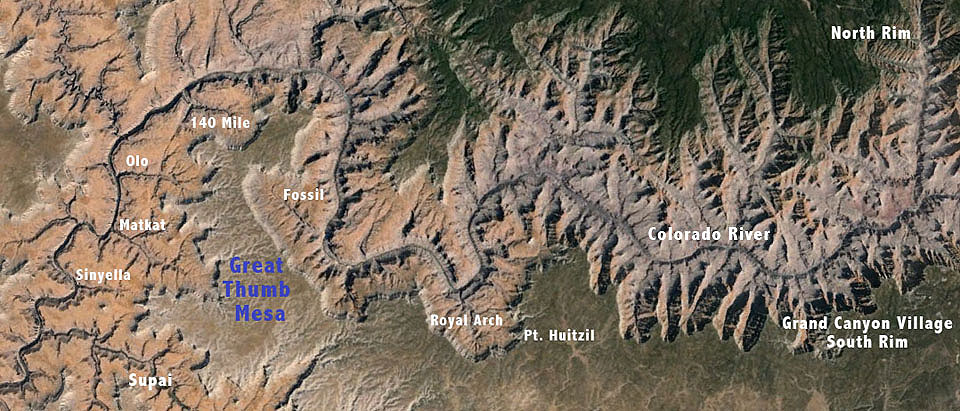 Panameta Canyon – a tributary to Matkatamiba
If Olo Canyon is the crown jewel under Great Thumb Mesa, then Panameta Canyon might be considered the Hope Diamond. It has some of the prettiest and tightest Redwall narrows anywhere in Grand Canyon with fluting similar to that seen in some softer rock sandstone slots.
The Colorado Plateau is filled with slot canyons. The vast majority being sandstone slots which can be incredibly narrow and sinuous. Grand Canyon was carved so deeply into the Earth that many layers of limestone were exposed and it's the only place on the Colorado Plateau where an abundance of limestone slots exist. Three limestone layers were stacked on top of each other between 300 and 550 million years ago: the Redwall, the Temple Butte, and the Muav limestone. Collectively they can be 1,500' thick in Western Grand Canyon. These hard limestone layers create slots that are uniquely different than others found on the Colorado Plateau.
Panameta is the name given to the south fork at the head of the east arm tributary of Matkat. It's only 1,700' long but quickly grows to be 500' deep exclusively in the Redwall limestone layer. It was first descended by Rich Rudow, Todd Martin and Todd Seliga in what proved to be one of the most challenging technical descents faced up until that time. On that cold November afternoon, there was a short debate about whether to enter Panameta because the team only had light wetsuits. But the slot was fairly short and prior experience suggested it would go quickly with a handful of big rappels. Four hours later the explorers would exit Panameta in the dark with varying degrees of hypothermia. Swim after brutally cold swim were encountered sandwiched between 8 rappels with difficult anchor problems. To this day Panameta has the most rappels of any Redwall limestone layer slot and remains one of the wettest descents found. It's one of the few slots routinely descended with drysuits.
Click on the first photo to see the full scale images.