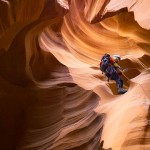 Several people involved with canyoneering have express a desire for a weekly letter describing progress which is going on but not publicized. Since we are working with legal issues, sometimes progress can be slow, in the beginning these letters might be more monthly. As always, comments are appreciated. I will also post this on Bogley and Yahoo at least initially until people become aware of the newsletter.
• Read the March News
Currently Rich is working with a lawyer in AZ. The legal papers will be going to members of the Board next week for review and editing. AZ requires notice in the local paper which will be done shortly. With good progress we should be incorporated in the next few weeks. I anticipate more members inside and outside the Board will need to be involved. Legal paperwork requires new positions be added: Treasurer, Secretary, etc. After editing is complete, we will have a Board meeting to approve docs. They will be published shortly after.
We currently have approximately $1400 in funds. No money will be paid out until we have a Treasurer. So far we have $120 in website start-up costs. Legal estimated costs will be approximately $1200-$1500. 501c3 costs will be $500-$900 min. On a side note, we had a sizable contribution from Tom Jones, ($500), thanks for your support Tom.
On the access front there is also some progress. Simplicity, I think, is the key here. We are trying to build a map using Google API which can be zoomed in and out to highlight specific areas. These areas can be double-clicked to access info for the area. The area could be color coded red, yellow, green to show the big picture. Links can be posted, for instance to Zion NP. The park would be highlighted yellow. After double clicking on Zion, there would be a link to Zion NPS for access to the permit system. Specific info could be added, ref info Shane posted on Arches NP which are more restrictive. Various route info available on line could also be added. This way, access to info for any area is available in one location. Again this is just in the developmental stages.
On the access restrictions front, Goblin Valley has been highlighted lately. Restrictions on using ropes are the issue. Will keep you updated as info becomes available.
WOLF
MARCH NEWS – PART TWO
There's been a fair amount of progress made over the last few weeks since our last newsletter. Today we posted the incorporation documents on our website. They have been approved by the interim board of directors and are open for comment. Following the legal requirements, which I think will still take several weeks, work will start on 501c3 status. Work has been progressing on the Google access map. If there are any people out their familiar with the Google maps API, we could use some help. Membership should be started shortly. An explanation of the process will be posted within the next few weeks. As a goal, we would like to start membership 01 April, so the nomination process for the permanent board of directors can begin 01 May, with a vote 01 June. We need to get an EIN number and accounting in order before proceeding with membership. All of this is contingent on no last-minute snags. Thanks for all your support and patience. WOLF