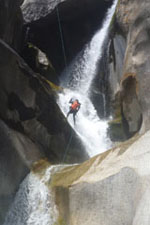 In this newsletter, four topics will be addressed:
• The Grand Canyon
• Fundraising
• Canyoneering rules and regulations
• Elections
• The Grand Canyon:
The Grand Canyon is a big deal. Canyoneering is just starting to become popular and a backcountry plan is being developed for the next 25 years. Because there is a need to pack raft down the river (river assisted backcountry travel or RABT), we need coordination with other organizations. There are several competing interests in the Grand Canyon boating community, be it private or commercial. Rich Rudow (board member) has been very instrumental in negotiations. Read the letter sent to National Park Service, it will affect your canyoneering in the Grand Canyon for years to come.
• Fundraising:
Planning has begun for the first annual fundraiser to benefit SAR teams. It is possible that one day, any one of us may need a rescue from one of these very important agencies. With limited budgets and funding resources, these organizations are facing shortages of some very important equipment requirements. I have requested the liaisons from the various areas to contact at least one team in their area and compile a list of their equipment needs. With this information, American Canyoneers representatives will approach manufacturers, retailers, and resources within our membership to fill as many of those needs as we can.
• Canyoneering rules and regulations:
One of several goals at American Canyoneers is to get information out to the public. Providing timely and relevant information will reinforce the probability that everyone knows the rules and will follow them. This ensures that canyoneering can be enjoyed for years to come. We are an impartial organization and information will be made available to any requesting organization.
Any organizations requesting information for listing, please contact us: admin@americancanyoneers.org
• Elections:
That brings us to our last point – elections. American Canyoneers members elect board members from within the membership. Three board positions will be vacant, as the following members have completed their two-year terms: Troy Ayres, Mike Putiak and myself, Wolfgang Schuster. Anyone interested in running for the board can post a brief biography and discuss the direction in which they would like to see AC move. If we have more than three candidates, elections will take place the first week in July. The positions are for a two-year term. If you are interested in a board position, please forward an email to admin@americancanyoneers.org and we will get your information posted on the Board of Directors Election page.
We would also like to thank Mike Schasch and all the volunteers working with the Forest Service (Pine Valley Ranger District) to clean up Yankee Doodle on April 20th. Thank you for your efforts. Story and Photos on Canyon Collective
I would like to welcome the following members that have recently joined American Canyoneers:
Victoria Harvey
Randy Piggott
Jeffrey Tucker
Gokul Ramachandran
Jerry Young
Brian Shannon
Stephen Fullerton
Kristin Murray
Bryan Ashbaugh
Dana Wentzel
Liz Goldsmith
Shannon McCumber
Jeremy McCumber