BLM seeks public input on Paria Canyon-Coyote Buttes Draft Business Plan • A CAC Summary
The Bureau of Land Management (BLM) Arizona Strip District Office is seeking public comment on a plan to streamline
the permit reservation process and adjust fees for areas located within and adjacent to Vermilion Cliffs National Monument, including the popular geologic formation known as the "Wave". The public is invited to provide feedback on the permit process and proposed fee adjustments by August 17, 2015.
Comments may be provided by mail or in person:
US Department of the Interior • BLM
345 East Riverside Drive
St. George, UT 84790
By email to: blm_az_vcnm@blm.gov
Below is a summary of the plan and the BLM's statement of impacts. The complete plan and FAQ's can be found here:
http://www.blm.gov/style/medialib/blm/az.Par.59040.File.dat/drft-paria-buss-pkg.pdf
The Paria Canyon/Coyote Buttes Special Management Area (SMA)
The SMA is divided into three distinct units, both geographically and managerially:
• Paria Canyon (including Buckskin Gulch and Wire Pass)
• Coyote Buttes North
• Coyote Buttes South
The proposed permit fee change for Paria Canyon Overnight is from $5 per person per night to $10 per person per night.
The existing fee for Wire Pass, Buckskin Gulch, and Paria Canyon Day-Use is $6 per person per day.
The proposed fee will decrease to $5 per person per day.
The proposed fee change for Coyote Buttes North and South is from $7 and $5 per person per day, respectively, to $12 per person per day for each area.
The camping fee at White House Campground is currently set at $5.00 per night per site. The proposed fee change is to increase the camp rate to $10.00 per night per site.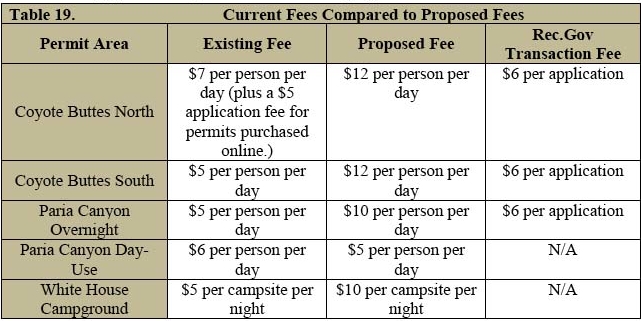 It is also proposed that the current online permitting system, Arizona Recreation Online Permit System (AROLPS), transition to a new online permitting system: Recreation.gov.
In addition to the fee adjustments outlined above, Recreation.gov would charge a transaction fee for permit applications for Coyote Buttes North, Coyote Buttes South, and Paria Canyon Overnight. For Wire Pass, Buckskin Gulch, Paria Canyon Day-Use, and White House Campground, permits and camping fees would continue to be paid on site.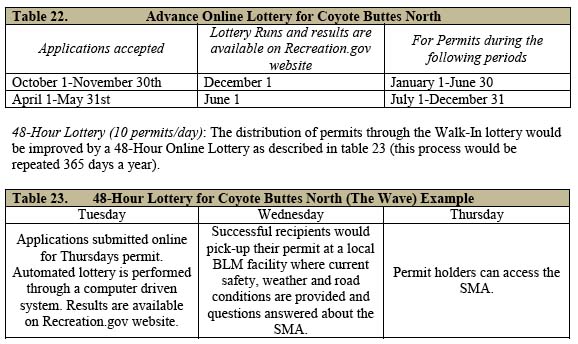 Coyote Buttes North
Advance Online Lottery (10 permits/day): Instead of a lottery taking place on the first of each month, a semi-annual lottery would take place as shown in Tables 22 and 23.
Coyote Buttes South
Demand for permits has not reached a point where a lottery is needed so an online calendar would be the primary method of obtaining a permit. Over-the-counter sales for available permits would be replaced by an online based system.
Advance Online Calendar (10 permits/day): The Advance Online Calendar for Coyote Buttes South would be similar to the existing system, except, calendars would be released semi-annually instead of monthly.
Paria Canyon Overnight:
Demand for permits has not reached a point where an online lottery is needed so an online calendar would be the primary method of obtaining a permit.
Advance Online Calendar (20 permits/day): The Advance Online Calendar for Paria Canyon Overnight would be similar to the existing system, except, calendars would be released semi-annually instead of monthly.
The transition to Recreation.gov would streamline the permit application process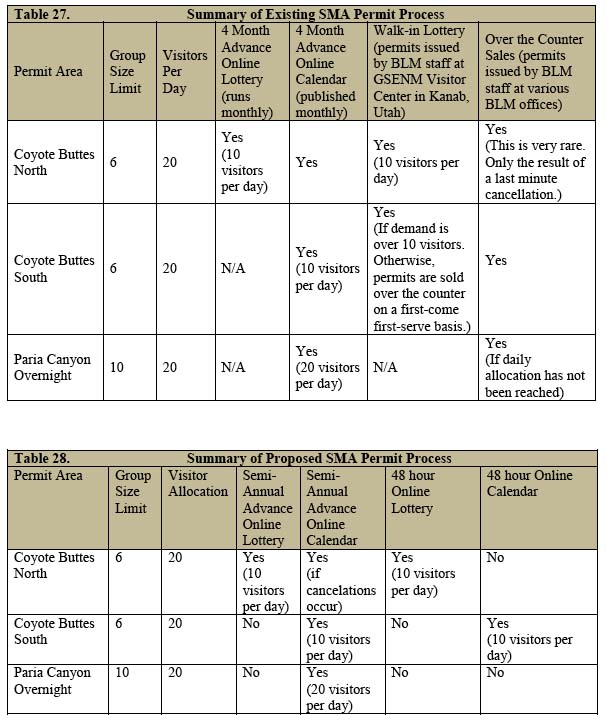 • The public would be able to cancel their permit and receive a refund for the permit fee, before their scheduled trip date. Currently, cancellations and refunds are not allowed.
• Recreation.gov is capable of handling a high volume of internet traffic. Website performance has caused significant issues at times with AROLPS, including mix-ups with permit dates and the system freezing up and locking users out, making the ability to obtain a permit difficult.
• The public would have the flexibility and convenience to apply from any location with internet access and would no longer be required to travel to a particular site to apply for the remaining 10 permits.
• For applicants to the Coyote Buttes North (The Wave) advance online lottery, applicants would only need to visit Recreation.gov twice per year instead of once per month. For frequent applicants, this would also decrease the cost of applying to the advance online lottery (e.g., $6 twice per year with Recreation.gov instead of $5 every month).
Impacts from Changing and Not Changing Recreation Fee Rates
The fees for the Paria Canyon/Coyote Buttes SMA have not been changed since 1997. The costs of goods, labor, and services have seen a continued increase. The Consumer Price Index increased by 10.4% from 2009 to 2013.
Benefits to Recreational Users
If the fees were raised, the current services would continue to be offered. In addition, some revenues could be used to gradually improve site infrastructure, routine maintenance, signage, and cleanliness, which in return could provide for a better visitor experience and improved wilderness resources and character.
Visitor services and information would also increase with more fee dollars. Upgraded and better site interpretation and education would help improve the overall visitor experience.
Benefits to the Local Economy
It is important to the local economies (including Kanab, Utah and Page, Arizona) to keep the infrastructure that supports the SMA in good condition, cleaned, and serviced to a high standard. The local communities that are near the SMA benefit from tourism dollars spent in the area. Improving the SMA infrastructures, trailheads, and campground to a high standard would improve the overall experience for current and new visitors.
Benefits to the Environment
The new fees would continue to help the BLM to improve, manage, and operate the trailheads and campground for the SMA. This serves to reduce negative impacts to sites and resources associated with higher levels of visitation in high-use areas. By providing trailheads and campgrounds for visitors, the BLM is consolidating impacts to a much smaller area. Human waste generated by visitors staying at the campground and trailheads is collected and disposed of at approved facilities.
Socioeconomic Impacts, Including Low-Income Populations
The socioeconomic data for BLM campers and hikers is unknown; however, those who vacation onto public lands can come from low-income populations. The SMA is remotely located between Page, Arizona and Kanab, Utah. Due to the remoteness, low-income populations may not choose to travel and camp in the area. Visitors to the area sometimes need rental vehicles and guides to access the area safely which can be a deterrent for low-income populations. However, the BLM offers camping, hiking, and recreation at an affordable rate. White House Campground has a proposed campsite fee of $10 per site per night. Raising the fees would not substantially impact visitors because the fees are already relatively low.
Anticipated Result of Not Modifying SMA Fee
Negative Impacts to Recreational Users
New and existing facilities represent a substantial public investment and visitors could expect to see a loss of functionality and use of these facilities as maintenance activity is reduced. As the cost of labor and fuel for equipment operation increases, BLM would not be able to maintain facilities as often or as quickly as needed. Deferred maintenance costs would increase as facilities age. Maintenance which is deferred because of insufficient funding may result in increased safety hazards, poor service to the public, higher future costs, and inefficient operations.
A reduction in park ranger and law enforcement patrols would occur. A reduction in patrols has the potential to compromise visitor safety.
In addition, not raising the fees would mean that improvements to the trailheads and campground would not be added to the existing infrastructure. The opportunities for future planned developments would be constrained and likely set aside due to the lack of funding to implement improvements.
Negative Impacts to Local Economy
Not raising the SMA and White House Campground fees could lead to the erosion of services such as cleaning and maintaining the sites. Sites that are not adequately maintained could be the reason people decide to recreate elsewhere. Should people be less likely to recreate in the SMA because of inadequate facilities, service related economies in Kanab, Utah and Page, Arizona economy could be impacted.
Negative Impacts to the Environment
As stated previously in this plan, the area was chosen as a pilot for the Fee Demonstration Program in the 1990's to more effectively manage the high-use demand and resource impacts. The demand for permits within the SMA has continued to grow with the increased popularity of Coyote Buttes and Paria Canyon. Failure to offer routine LEO and BLM Park ranger patrols to aid in resource protection and visitor safety as well as maintain developed facilities could lead to negative impacts on wilderness resources and wilderness character of the SMA, trailheads, and campground. For example, if the BLM was not able to regularly service and maintain the restrooms (routine cleaning and the staff that cleans the sites are funded by recreation fee revenue), people would be less likely to utilize the toilets, leading to human waste impacts. Additionally, with less fee dollars, the recreation maintenance staff would reduce the amount of site cleanup and weed control. A lack of adequate visitor information and education also leads to reduced visitor knowledge about sensitive resources. All of these would lead to negative impacts to the environment.
Socioeconomic Impacts, including Low-Income Populations
While low-income populations do not generally choose to vacation at the SMA due to its location, the BLM has kept the fees affordable for low-income populations. However, if fees were not modified, then the trailheads and campsites could not be maintained adequately. Then low-income populations would be deprived of a quality and unique recreation experience.