Monkeyface Falls Canyon Cleanup and Graffiti Removal • July 29, 2017
On Saturday, July 29th, the Coalition of American Canyoneers (CAC) held a conservation project at Monkeyface Falls in Southern California. As part of this effort, 31 volunteers removed trash and graffiti from both the canyon and surrounding area. We were able to use the CAC's portable pressure washer to remove nearly every trace of the canyon's graffiti. Some less accessible areas were cleaned by hand and covered with Portland cement to blend in with the natural rock. A trail was cleaned and poison oak trimmed back to the base of the canyon. The conservation effort also included removing the 400′ or so of dangerous hand-lines that area youths were using to access the base of the large waterfall.
A group descended the full canyon from the top, replacing anchors and removing a small amount of graffiti. Five large trash bags were filled and removed – much of it from the roadside at the canyon's start. A high-water rescue route was descended and documented for use by SAR if ever needed.
We were aided by volunteers from the local community, the San Bernardino County Sheriff's office, and three search and rescue teams: Valley of the Falls Search and Rescue, San Gorgonio Search and Rescue, and San Bernardino Cave and Technical Rescue Team.
Thank you to everyone who participated. Your efforts were completely successful and the canyon was left in near-pristine conditions.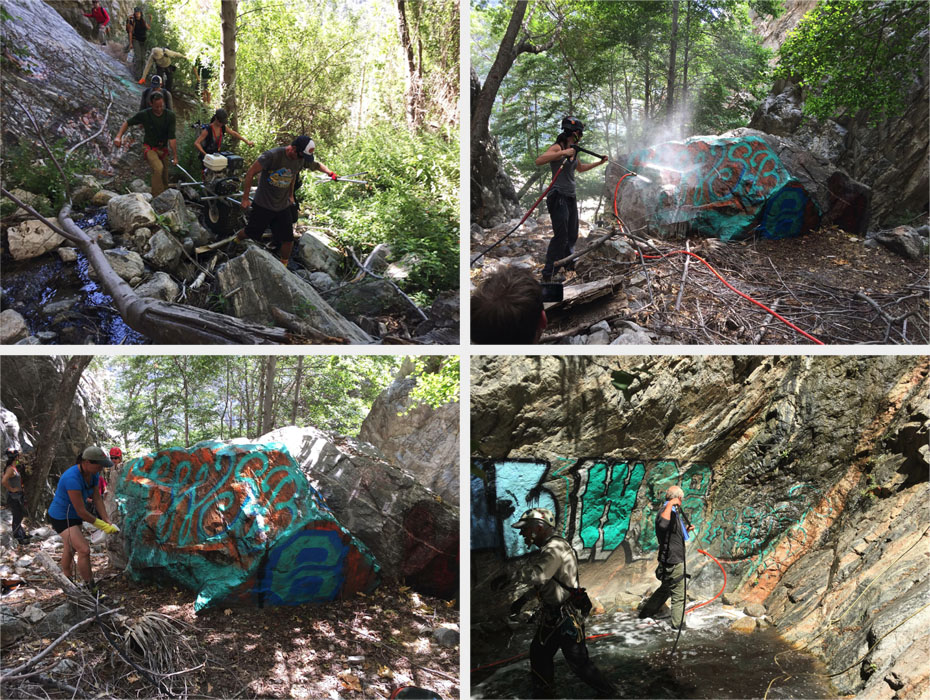 Your membership makes a difference!
We regularly deal with land managers, national park officials, and politicians. The broader our membership base the greater our impact.