Most SLOT CANYONS are found on public lands managed by the US Government, although a few can be found on private lands. The US Forest Service, the Bureau of Land Management, and the National Park Service manage these lands. Each area tends to have unique management issues. As a result, there is not a uniform set of rules governing our use of these lands. The rules generally exist on a location by location basis.
The purpose of this page is to provide the rules – and rule updates – for each of the major areas where slot canyons can be found.
GRAND CANYON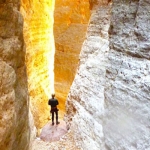 Grand Canyon National Park contains 1.2 million acres of land with the lowest elevation along the river at 1,200' and the highest elevations on the north Rim over 8,000'. The Colorado river flows for 277 miles through Grand Canyon starting at Lee's Ferry and ending at Grand Wash cliffs. 141 slot canyons have been descended, including 117 canyons published in Todd Martin's book, Grand Canyoneering. Many slot canyons remain undiscovered in this vast landscape.
Information: • Grand Canyon
ZION NATIONAL PARK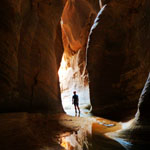 Zion National Park could easily be considered the most popular canyoneering venue in the United States. Spanning 229 square miles, the park is home to many easily accessible canyons cut deep into the Navajo Sandstone. Zion is Utah's first National Park and sees just under 3 million visitors per year.
All technical canyons within Zion National Park require a permit. Hiking the Narrows from the top-down and hiking the Subway from the bottom-up also require a permit, though these hikes are non-technical.
Information: • Zion National Park
SAN GABRIEL MOUNTAINS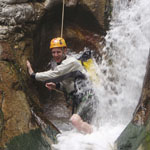 The
San Gabriel Mountains
sit on the Northern boundary of Los Angeles County in Southern California where they rise mightily above the city exceeding 10,000′ in elevation at its highest. The nearly 70-mile corridor contains many canyoneering routes – both technical and non-technical. The 20 million plus population living within one hour of these routes are able to enjoy them year round thanks to the mild climate. However, days must be planned carefully thanks to the notorious Los Angeles traffic.
Information: • San Gabriel Mountains
CAPITOL REEF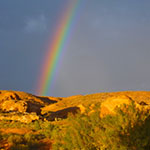 Capitol Reef National Park encompasses nearly a quarter million acres of slickrock and mixed desert terrain over a 100 mile long expanse called the Waterpocket Fold. The monocline layers through which many of the parks canyons travel provide the canyoneer with a unique opportunity to encounter geology in reverse. Elsewhere, canyons in Capitol Reef are a showcase of majestic, soaring red Wingate walls, with their characteristic cracked and pocketed erosional patterns.
Information: • Capitol Reef National Park
GRAND STAIRCASE-ESCALANTE NATIONAL MONUMENT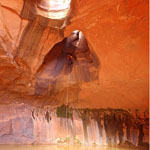 The Grand Staircase-Escalante region was one of the last areas in the United States to be successfully explored. The rugged nature of the geology confounded early attempts to navigate this land, a seemingly endless labyrinth of cracks and canyons stretching as far as the eyes could see. What was a beautiful, but disheartening sight to the early traveler is now seen with eager eyes by a new generation of explorers.
Information: • Grand Staircase-Escalante
THE NAVAJO NATION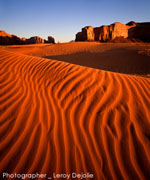 The Navajo Nation covers over 17 million acres encompassing all of the NE quarter of Arizona, and parts of Utah and New Mexico. This highly photographed landscape features a brilliant blue sky over numerous deeply carved canyons, pristine alpine wilderness meadows and flatland desert. The Navajo Nation is comprised of essentially private lands, therefore all non-Navajo visitors must abide by and comply with the laws, regulations and policies promulgated by the Navajo Nation government, including those governing Navajo parks, monuments and recreation areas.
Information: • The Navajo Nation
ROBBERS ROOST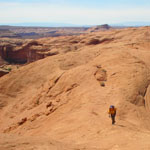 Robbers Roost is a remote area of desert country in central Utah, cut by a maze of spectacular canyons. Named from its history as a hideout of the Butch Cassidy gang, the Roost is located between Hanksville on the west and Canyonlands Maze District on the east, with most canyons draining into the Dirty Devil River, or north into Horseshoe Canyon. All technical canyons are located on BLM land, although egress for some routes is via the Horseshoe Canyon Unit of Canyonlands National Park. Wild country and adventure can still be found here by the prepared canyoneer.
Information: • Robbers Roost
NORTH WASH and TICABOO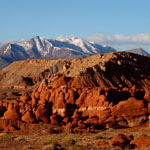 The North Wash and Ticaboo regions offer fairly easy access to mazes of deeply sculpted canyons for both the beginner and the highly-skilled canyoneer. North Wash has become one of the most frequently visited canyon areas in Utah where many test and hone their skills. The area is located southeast of Hanksville, west of Hite and north of Bullfrog at Glen Canyon NRA. The technical canyons are located on BLM land and Glen Canyon National Recreational Area. Prepare yourself well and safely enjoy your adventure in this wonderful, wild country.
Information: • North Wash and Ticaboo
GLEN CANYON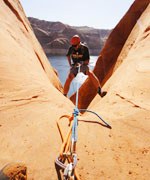 Lake Powell, created by the Glen Canyon Dam, stills remains a controversy even after 50 years of existence. The authorization of the Colorado River Storage Project Act by Congress on April 11, 1956 initiated the construction of Glen Canyon Dam, the key unit of one of the most extensive and complex river resource developments in the world. After 16 years of filling the Colorado River, on June 22, 1980, Lake Powell reached an elevation of 3,700 feet, with a total capacity of over 26 million acre-feet of water. The variation in Powell's elevation in the last two decades and the advancement of canyoneering skill sets, specifically ghosting techniques, have led to many amazing "first" documented descents of casual to epic slot canyons along Lake Powell's shore.
Information: • Glen Canyon
SIERRA NEVADA MOUNTAINS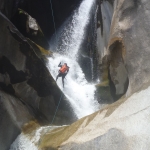 If your looking for class C canyons with swims, waterfalls, and great scenery this is the place to come! Several world class canyons exist in the California Sierras and many more are waiting to be explored. Canyoneering here is still in its infancy. There are several great routes that see considerable traffic. However, there are also quite a few others that see very little, even though they are great routes.
Information: • Sierra Nevada Mountains
IDAHO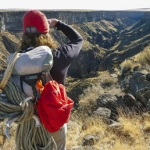 Idaho's vast wilderness areas and sparse population make it a great place for finding solitude in remote canyons. Idaho has easy access, half-day canyoneering adventures and countless remote exploration possibilities. Technical canyoneering is in its infancy in Idaho and there is much to explore and discover. Idaho canyons tend to be wide, rocky gorges rather than skinny slots. Skinny slot canyons do exist but they are usually short.
Information: • Idaho